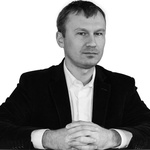 Andrus Kõresaar
Born in 1975 in Viljandi. He graduated in 1993 from C.R. Jakobson's Grammar School, class specialized in mathematics and physics and continued his studies for higher education in the Estonian Academy of Arts studying graphics. Later he studied graphic design and animation in Hochschule für Gestaltung Luzern, Switzerland.
The co-founder and creative director at architectural bureau KOKO architects, created in 2001, following the success of designing Estonian pavilion at EXPO2000 in Hannover together with Raivo Kotov. Together with his partner Kotov and their common company, KOKO architects have taken on significant projects like the reconstruction and conservation of the Seaplane hangars, Tallinn TV tower, Fahle house, Carpenter's workshop at Rotermanni quarter and more. In 2013 KOKO architects won the highest European award for conservation and restoration of cultural heritage – Europa Nostra and European Union Cultural Heritage Grand Prix for the reconstruction of the Seaplane Harbour hangars. A member of the Union of Estonian Architects since 2007.
---
SEAPLANE HARBOUR: A SYMBIOSIS OF ENGINEERING AND MARINE HISTORY
The seaplane hangars at Tallinn Seaplane Harbour is one of the most valuable buildings of the 20th century in the Baltic States. The Danish engineering and construction company Christiani & Nielsen designed the hangars that were built in 1916–1917. The building is remarkable both in terms of construction science and technology, and their uniqueness stems from the structural solution. In 2009, KOKO won the architectural competition, and the winning entry became the basis for the reconstruction. The new exhibition of the Estonian Maritime Museum was established inside the hangars. The complexity of the restoration of the old steel concrete construction required close cooperation with scientists from Tallinn Technical University, conventional building skills and quality materials. Next to the reconstruction of the old building, KOKO put special emphasis on the architectural design which emerged from the needs of the museum.
http://koko.ee/en/projects/year/index.php?option=com_koko&view=project&id=121-seaplane-harbour
Recognition:
2014 International real estate competition MIPIM Awards / Best refurbished development / shortlisted as finalist
2014 European Museum Forum / European Museum of the Year Award / Special Commendation
2013 EU Prize for Cultural Heritage / Europa Nostra Awards 2013 / Conservation / Grand Prix
2013 DOMUS International award for restoration and preservation / Ex Aequo Silver Medal
2013 Interior Design Association (IIDA) Global Excellence Awards / Category: cultural, institutional, educational / Best of Category winner / Interior Architecture of the Seaplane Harbour
2013 EU Prize for Contemporary Architecture / Mies van der Rohe Award / Nominee
2012 Cultural Endowment of Estonia / Annual Prize / Reconstruction of Seaplane Harbour hangars and Tallinn TV Tower
2012 Swedish Business Awards / Estonia / Environmental Award / Seawater heating system for Seaplane Harbour
2012 Tallinn Culture and Heritage Department / Honourable mention
2012 Estonian Design Awards / Product Design Award BRUNO / Best Design Project
2012 Estonian Design Awards / Best Design Team / Seaplane Harbour / KOKO architects & Produktsioonigrupp
2012 Estonian Design Awards / Graphic Design / Environmental Design / bronze / Seaplane hangar floor / KOKO architects & Produktsioonigrupp
2012 World Architecture Festival / Old and new & Display / Shortlisted
2012 Estonian Association of Architectural and Consulting Engineering Companies / Construction Project of the Year
2012 Estonian Concrete Association / Concrete Building of the Year