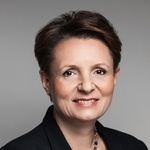 Małgorzata Omilanowska
Minister of Culture and National Heritage of Poland (appointed on June 16, 2014).
Prof. Małgorzata Omilanowska is an art historian. She specializes in problems of architecture of the 19th and 20th centuries, theories of art and protection of monuments.
A graduate of the University of Warsaw. She also studied at the Faculty of Architecture of the Technical University of Berlin. She earned a Ph.D degree at the University of Warsaw in 1995, habilitated at the Institute of Art of the Polish Academy of Sciences in 2005. In 2013 she was officially conferred an academic degree of professor. She also completed postgraduate studies in finance and taxation in the Warsaw School of Economics (graduated in 2003).
Since 1985 she has worked as a researcher at the Institute of Art, Polish Academy of Sciences. From 1999 to 2007 she performed duties of a deputy director, and most recently – editor in chief of the Dictionary of Polish Architects. At the same time, since 2006 she has worked as a Professor at the Institute of Art History, University of Gdańsk, and from 2008 to 2012 she was the director of the Institute. A member of many scientific councils of Polish and German institutions, including Herder Institute in Marburg and Germanisches Nationalmuseum in Nuremberg.
Photo: http://www.mkidn.gov.pl