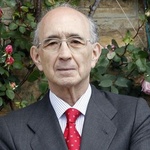 José Maria Ballester
Director of the Rural Development Area of the Botín Foundation
An International Civil Servant and art critic, he served as an Advisor to the Holy See for the Cultural Goods of the Church (1996-2008), and sat on the juries of both the Prince of Asturias Awards (1999 and 2000) and the 1st Reina Sofia International Award for the Conservation and Restoration of Cultural Heritage in Latin America. He moreover served as a member and Vice President of the European Union Prize for Cultural Heritage / Europa Nostra Awards until 2012, when he was elected President.
In 1979 his public service exam results enabled him to join the Council of Europe, where he successively held the posts of Head of the Division for Regional Planning, Monuments and Sites; Head of the Cultural Heritage Division; Head of the Cultural and Natural heritage Service; and Director of Culture and Cultural and Natural Heritage, until the end of 2003.
In 2004 the Botín Foundation would entrust him with the design and management of a Development Programme based on the intelligence use of the area´s resources and the strengthening of the heritage resources in an area of Cantabria, the Nansa and Peñarrubia Valley.
Prior to joining the Council of Europe, he served as an advisor in the Office of the General Directorate of Fine Arts (1968-1970); Exhibition Curator of the Ministry of Foreign Affairs (1969-1979); and Director of the Centre for New Expressive Forms, Ministry of Culture, from 1978 to 1979, when he was appointed Secretary of the National Visual Arts Council, a post which he would not take up, given his incorporation into the Council of Europe.
He has moreover served as a speaker regarding the illicit circulation of cultural goods on the Committees of Culture of European Parliament and the Parliamentary Assembly of the Council of Europe, the former Supreme Soviet in Moscow and the Senate of the French Republic.
Photo: © Botín Foundation.